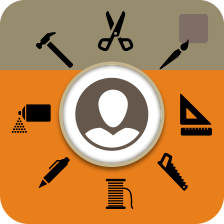 From the First Transcontinental Railroad to today's most efficient freight transportation network, Union Pacific has been building America for more than 150 years.
Beginning March 2, Union Pacific invites everyone to show off something they've built. The best submissions will appear on Union Pacific's Instagram page, and the Union Pacific Foundation will donate $100 to the participant's choice of four charities:
Girls Inc.
National Action Alliance for Suicide Prevention
National Park Foundation
The Nature Conservancy
Here's how the program works: at up.com/whatdidyoubuild, participants can submit a photo and a description of something they've built. Each submission will be reviewed for originality, composition, general interest, photo or video quality, as well as the background story. Through May 31, 2015, Union Pacific will select several impressive submissions per day to post on the company's Instagram account, @UPRR. If a submission is posted on Instagram, the submitter will be notified, and a donation will be made to the charity of choice. Participants must be 18 years of age or older.
To submit a project, or to read the complete rules, visit up.com/whatdidyoubuild.
About the Union Pacific Foundation
Union Pacific Foundation is the philanthropic arm of Union Pacific Corporation and Union Pacific Railroad. Union Pacific believes that the quality of life in the communities in which its employees live and work is an integral part of its own success. Originally created as the Union Pacific Railroad Foundation in Omaha, Neb., the Foundation has distributed funds since 1959 to qualified organizations in communities served by Union Pacific. The Foundation is not endowed, but is funded each year from the operating profits of Union Pacific Corporation.
About Union Pacific
Union Pacific Railroad is the principal operating company of Union Pacific Corporation (NYSE: UNP). One of America's most recognized companies, Union Pacific Railroad connects 23 states in the western two-thirds of the country by rail, providing a critical link in the global supply chain. From 2005-2014, Union Pacific invested more than $31 billion in its network and operations to support America's transportation infrastructure. The railroad's diversified business mix includes Agricultural Products, Automotive, Chemicals, Coal, Industrial Products and Intermodal. Union Pacific serves many of the fastest-growing U.S. population centers, operates from all major West Coast and Gulf Coast ports to eastern gateways, connects with Canada's rail systems and is the only railroad serving all six major Mexico gateways. Union Pacific provides value to its roughly 10,000 customers by delivering products in a safe, reliable, fuel-efficient and environmentally responsible manner.